Blog Home
Creating the Perfect Pantry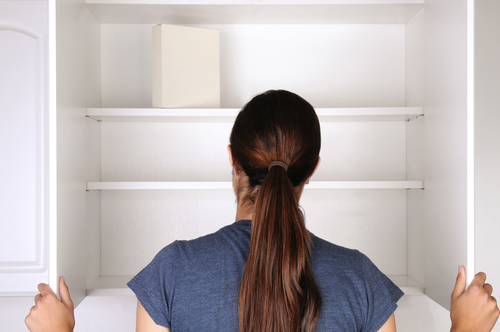 Welcome back to the Mission Place Blog! Today we are sharing some ideas about how to plan and create the perfect pantry. Doing it now will help you be ready for the upcoming holidays — unexpected guests dropping in for dinner won't be a big deal, and instead of heading to the store in awful weather to pick up ingredients, you can just turn to your pantry. So here's how to create the perfect pantry.
First things first. Take stock of what you already have on hand and note whether you will soon need to get more or if the items "use by" date has passed. Think about the entrees you cook often and what goes into them, add the shelf-safe ingredients to your list of items to be stocked in YOUR pantry. Take into account the spices you like to cook with, whether you spend a lot of time baking, and what your monthly food budget looks like. Add a set dollar amount to your monthly food budget set aside specifically for pantry items.
There are a multitude of pantry-supply lists, such as this one from the Food Network, which you can use as a base for creating your individualized pantry. Keep track of what you need to pick up at your favorite grocery store here in Jessup, MD by using one of these handy apps. We especially like the Out of Milk app (available for both Android and iOS) because with it you can include an ongoing home pantry list.
Once you have determined what's in your pantry and what you want to add, make a list and each time you go grocery shopping, add something from the list until you've created the perfect, individualized pantry. Maintaining a well-stocked pantry has several advantages — you can make a meal at a moment's notice, you can take advantage of sale items, and you can buy in bulk to stock up.
When you are ready to set up your pantry area, take some time to plan what will go where. Put heavy items on lower shelves, light-weight items that are rarely used on upper shelves, and items that are used often on easy-to-reach shelves. When possible, use uniform-sized containers for food items. Be sure to label containers so you know what you have.
Planning and creating a full, functional pantry area makes creating meals in your Mission Place apartment so much easier you may wonder why you didn't do it sooner! What are your must have items to keep in a pantry? Let us know in the comments.