Blog Home
Make it a Classic Movie Night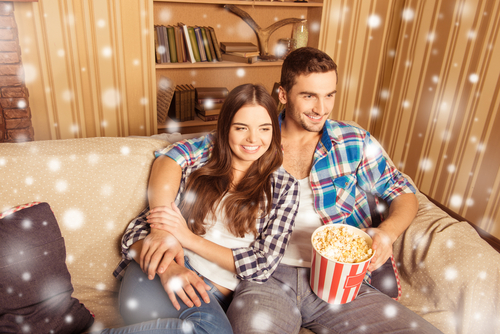 Today the Mission Place Blog has some suggestions for planning a Valentine's Day date night. Plan a movie night, but not just any movie! Try one of these romantic classics* and be sure to upgrade the drinks and treats, too. We suggest one of these desserts from Good Housekeeping. Don't forget the popcorn! Now on to the movies.
Roman Holiday (1953)
Starring Gregory Peck and Audrey Hepburn, this story of an overwhelmed, bored and sheltered princess who escapes her guardians and falls in love with an American newsman in Rome is a wonderfully funny, romantic tale.
Houseboat (1958)
Cary Grant stars as a government attorney who can't seem to shake his bad fortune. Living on a houseboat, widowed and left with three unruly kids, he hires Sophia Loren as a governess; and the sparks fly in this cheeky, urbane comedy.
Father Goose (1964)
Cary Grant stars in one of his funniest roles as a boozy beachcomber sitting out WWII in peace until the Allies recruit him to be a lookout on the South Pacific isle. During an enemy attack, he answers a distress call and discovers a beautiful French schoolmarm (Leslie Caron) and her seven girl students. And so begins a hilarious battle of the sexes between the messy American, the prim mademoiselle, and seven mischievous little girls. Who will win is anybody's guess, but you can be sure that Father Goose delivers plenty of romantic fun and adventure along the way.
Teacher's Pet (1958)
Movie legends Clark Gable and Doris Day headline a comedy with class! Gable plays Jim Gannon, a school-of-hard-knocks newspaperman who despises journalism schools. . . until he sees who's doing the teaching. Attracted to lovely professor Erica Stone (Doris Day), he masquerades as a novice in her class. Soon he's her prize pupil, all the while trying to make her his own prize. Who will come out on top?
If staying in your apartment to watch movies just isn't your thing, head out to your favorite Jessup, MD theater to check out what's playing on the big screen. Movie Insider has info on all the latest movies.
What is your favorite classic romantic comedy? Share in the comments so we can all try a new classic! Thanks for reading the Mission Place Blog. Happy Valentine's Day!
*Blurbs from movie jackets.