Blog Home
Pi Day Puns Plus Pie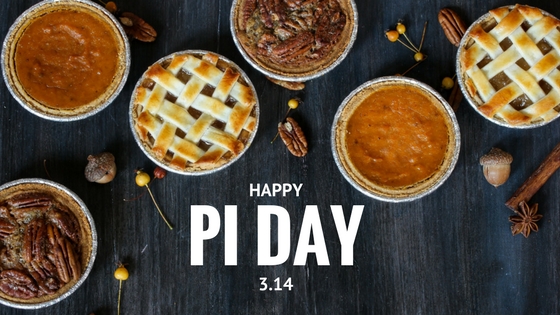 Celebrating Pi Day has, for many Americans, become a ritual of eating pie and making puns, and today the Mission Place Blog has ingredients for both! Try one of these pie recipes and share the puns in your social media feeds come Pi Day, March 14th.
Pie Recipes
Shepherd Pie — This made-from-scratch versatile dish is sure to please. Yum! We found a super easy recipe on the Cutestuff Cooks blog.
Pizza Pie — It's round, right? And you can use pepperoni to create the Pi symbol on the top of it, a perfect way to celebrate the day. Here is a recipe for homemade pizza.
And of course, we can't forget dessert pies, whether it's a fruit-filled masterpiece, the nutty goodness of pecan pie, or the whipped delights of a cream pie. Eat a slice today in honor of Pi.
Peach Pie with a lattice top from Taste of Home is sure to please everyone at your table. With this easy-to-follow recipe, pie will be on the table in no time.
Pecan Pie from The Pioneer Woman Cooks blog gives you step-by-step directions complete with pictures for this tasty treat. The commentary is delightful, too.
Coconut Cream Pie with a recipe from the Pillsbury kitchen is a must have for Pi Day. With a toasted coconut topping, this pie speaks creamy and crunchy. Mmm Tasty!
Another option, if you're not into baking your own pie is to stop by a Jessup, MD area bakery and pick one up, or head out to your favorite restaurant and top off your meal with a slice of pie! Yelp has some good suggestions.
Pi Day Puns
The worst thing about getting hit in the face with pi is that it never ends.
Never talk to pi. He'll go on forever.
I just saw the movie American Pi. I gave it a rating of 3.14.
Q: What is 1.5?
A: Half a pie
Q: What do you get when you take the sun and divide its circumference by its diameter?
A: Pi in the sky.
Q: What was Sir Isaac Newton's favorite dessert?
A: Apple pi!
We hope everyone enjoys Pi Day and all the other March holidays whether you celebrate at your apartment or go out on the town! Thanks for reading today's blog post.