Blog Home
Taking Time for Gratitude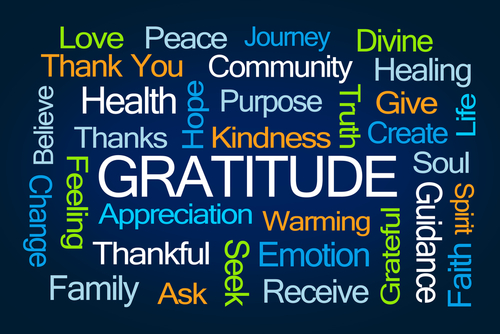 Thanksgiving is about more than good food and football (though those are two very important elements of the holiday, in our opinion). Gratitude is one of the hallmarks of the day, and here at the Mission Place blog we have some tips for making gratitude a part of your daily life. Why is that important, you ask? Studies have shown that people who express gratitude are happier, and also reap other benefits related to better health; this article goes into detail about the hows and whys.
Today we want to share three ways to include gratitude in your life on a regular basis.
1. Put it in writing.
Create a gratitude journal. This can be anything from a simple notebook to a fancy, leather-bound journal. The point is having a place to write down the things you are grateful for each day. To get in the habit, give yourself the challenge of recording three things daily that you are grateful for during the month of November. After that, hopefully it comes more naturally to you. Seeking the good things that happen is definitely a mood-lifting exercise.
2. Pay it forward.
It's a popular idea that may sound difficult to implement — after all, we're not made of money. The thing is, though, that there are a multitude of ways to pay it forward that don't even require money, but that still make a difference and highlight the fact we all have things in our lives to be grateful for. So when you're out and about in Jessup, MD this month, make it a point to do things for others. For example, hold the door open for the person with an armful of papers, tell the cleaning person how much you appreciate having a neat and tidy office, send an email to your child's teacher and them thanks for the hard work they do every day. Check out these 60 Selfless Ways to Pay It Forward, too.
3. Share it with a friend.
When we are not in the habit of looking for the good in others or looking for things to be grateful for, it can be difficult to come up with anything — or even remember to do it. In these situations, having someone to be accountable to makes a difference. Challenge yourself and others to post three things a day that you're grateful for on social media or in your gratitude journal. Take time to write a note, send an email, send flowers, or stop by for an in-person visit to people who have made a difference in your life. You will both be uplifted and benefit from the warm, fuzzy feelings that will ensue.
We appreciate all of the members of our apartment community. If you are traveling for Thanksgiving, be safe! Thanks for reading the Mission Place blog.